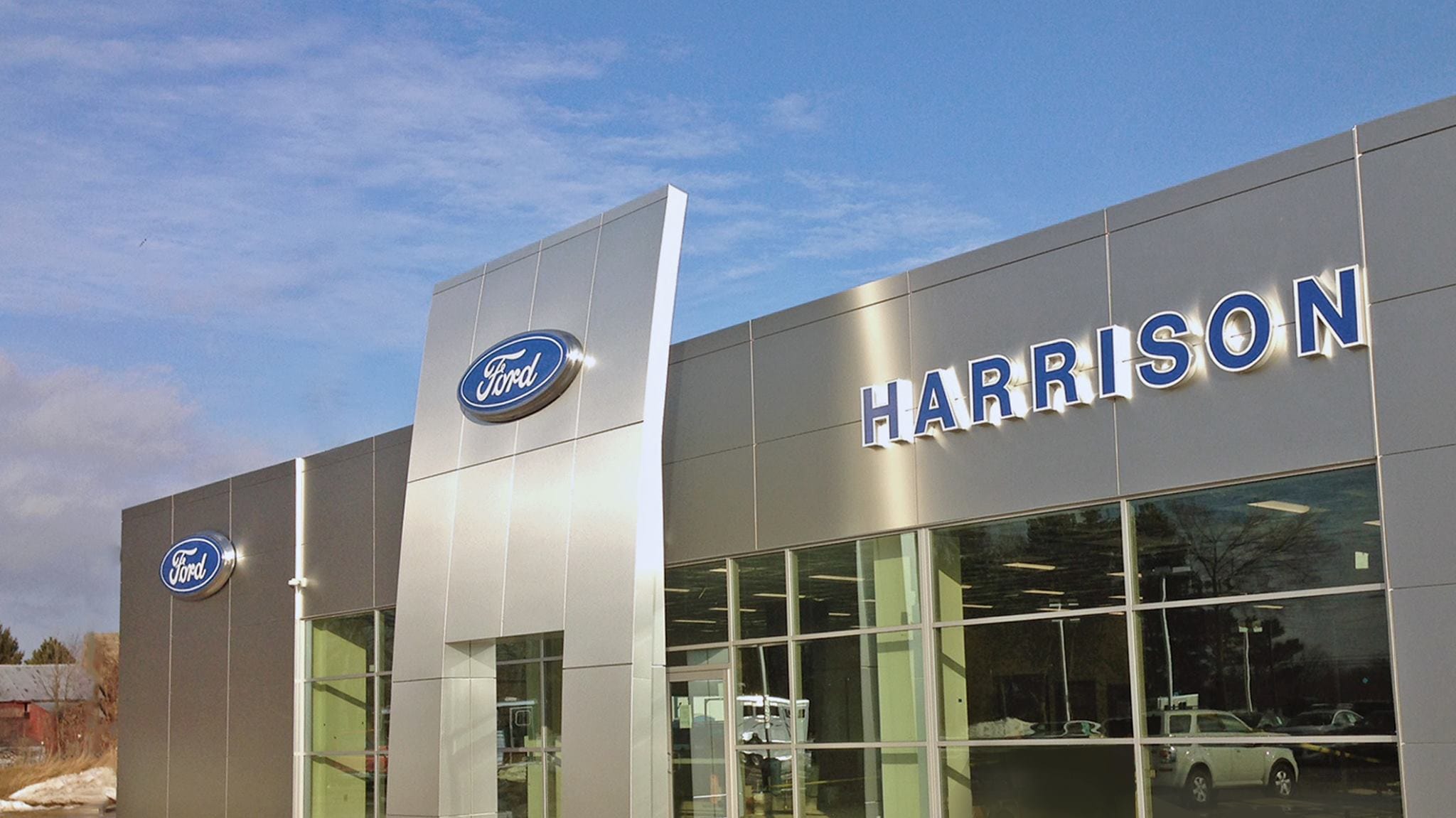 OUR HISTORY
Harrison Ford Inc. began in 1972 with founder's Allen & Alice Harrison. Allen & Alice owned and operated Harrison Truck and Implement originating in Brighton in 1963. This business moved to Wellington in 1967.  Prior to that, Allen enjoyed farming, serving his apprenticeship in the automobile business, and buying and selling cattle, ponies,  tractors, and implements in Brighton. An International Harvester Truck dealership was acquired in Wellington in 1967 selling and servicing new International trucks, used cars, and used trucks. This building is currently home to the Wellington Fire Dept. on Kelly St. Harrison Truck and Implement moved to the corner of Kelly St. and  N. Main St. in the late 60's. Rite Aid Pharmacy currently resides on this property.  
          In 1972 Ford Motor Co. approached Allen Harrison to become the area Ford Dealer.  Allen & Alice accepted with hopes that some of their four  son's  may have an interest in future operation. The future came quicker than imagined when Allen Harrison passed away in 1974.  Two of his son's, Lad and Brian, were working in the business and continued operations, along with their mother Alice. Lad being 23 at the time, and Brian 21.  The youngest of the four, Rodney, was 17 and entering his senior year in High School. Wayne, the oldest son, was married and living in Akron; he remains uninvolved with the business. 
          Rodney joined his brothers in Dec.1978 after graduating from college. Lad, Brian, and Rodney added a Goodyear Tire Center in 1984, that has since become our Quick Lane Tire & Auto Center. In 1989 Brother's Chevrolet in Wellington was acquired, with Lad Harrison in charge of operations. Rodney and Brian continued operations at the Ford Dealership.
          In 1995 Harrison Collision Center was added. In 1998 Harrison Ford Inc. built and moved into its current facility on North Main St.
          In 2011 Harrison Ford Inc. added  Featherlite Trailers to assist in servicing the Auto and Agriculture needs of Northeast Ohio. This franchise provides horse, livestock, car and utility trailers. In 2011 Harrison  Ford Inc. was recognized as the Rookie of the Year and Top Ten Featherlite dealers in the Nation. Exiss & Sooner brands were added in 2017. 
          Rodney's daughter,  Ashley, has joined the Harrison Ford dealership with the hope of continuing operations for another generation. The Harrison Family is proud and thankful to have had the opportunity to provide service to the community for over 45 years.       
On behalf of our entire staff, we would like to welcome you and thank you for visiting our website. We are committed to serving you as our customer and as our friend. We look forward to hearing from you.